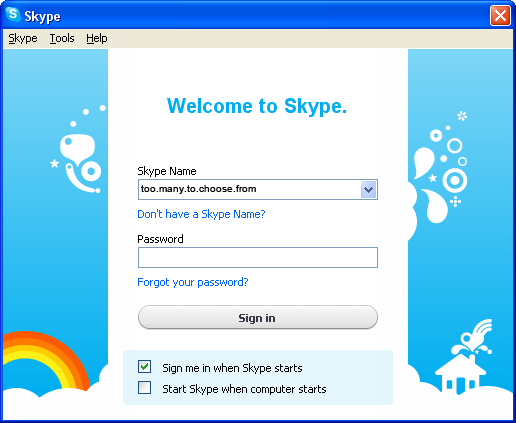 Over the years I have accumulated many Skype handles to manage personal and professional contacts. While looking at my log-in screen today I noticed Skype usernames from companies I haven't worked for in 5 years. I could not find an easy way to delete these names. According to Skype, a username / account cannot be deleted from the system, they will just terminate accounts that have not been used in a certain period of time, however I didn't even want to see my old usernames. Removing usernames can be done though.
Windows
If you are using Windows XP:
Quit Skype. In the system tray at the bottom right of your screen, right-click the Skype icon and select Quit.
Click Start > Run.
Type %appdata%skype into the Run window and click OK. All the files held in the Skype folder in your Program files appear.
Delete the folder named after the Skype Name you wish to remove from the sign-in screen.
If you are using Vista or Windows 7:
Quit Skype. In the system tray at the bottom-right of the screen, right-click the Skype icon and select Quit.
Click Start. In the blank field that appears, type run. Press the Enter key.
In the Run window that appears, type %appdata%skype and click OK.
All the files held in the Skype folder in your Program files appear.
Delete the folder named after the Skype Name you wish to remove from the sign-in screen
Mac OSX
Use finder to go to User/Local User Name/Library/Application Support/Skype/
Where Local User Name is your username
Delete the folders of the users you no longer want
Restart Skype if running